Policing and enforcement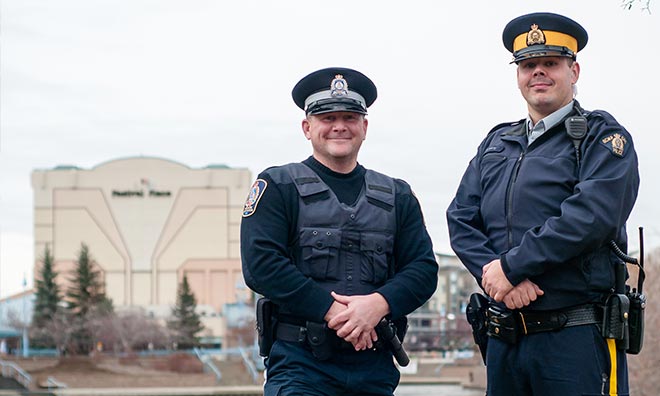 Front counter service modifications
Due to health restrictions front Counter wickets will now be limited to one client per wicket.
A maximum of five people are permitted in the lobby at one time. If there are more than five people waiting for service, clients will be requested to wait outside until advised by staff to enter the lobby.
Last modified: Feb. 14, 2022, 12:03 p.m.
We're working hard to provide a climate of safety for our residents and businesses to flourish. Find out about Emergency Services, RCMP and Enforcement Services. Our teams work closely with the community to prepare and respond to emergencies, educate and enforce bylaws – including safe driving practices,  responsible dog ownership and a Fire Smart community.
If you notice suspicious activity, please speak up. Call the 24 hour complaint line to report your concern.
RCMP and Enforcement Services

Emergency: 9-1-1
24 hour complaint line: 780-467-7741
Administration
Phone: 780-467-7749
Fax: 780-449-1265

Enforcement Services
Phone: 780-449-0170
Fax: 780-449-1265

Location
911 Bison Way Sherwood Park, Alberta T8H 1S9

Police priorities
Join RCMP Officer in Charge Supt. Dale Kendall for an online community information session on policing priorities in Strathcona County, as well as an opportunity for questions.
Services you can access online
New!In an effort to provide a simpler, more efficient service, Strathcona County is piloting an online criminal record check tool. Strathcona County residents can now apply for criminal record check and vulnerable sector check online
New! Citizens can now report select crimes online. All reports will be followed up with a phone call by a police officer within five (5) business days. Criteria for the incident to be reported online is available on the Alberta RCMP Online Crime Report page.
In-person services
Hours of operation:
RCMP and Enforcement Services related information and requests are now available as a single point of service at the front counter.
Outside of listed hours, the public can access help using the after-hours public phone inside the front door of the detachment.
Main Reception - Front Desk hours of operation are as follows:
Monday to Friday, 7:30 a.m. to 6:30 p.m.
Saturday, 9 a.m. to 1 p.m.
(Closed Sundays and statutory holidays)
Notice: Strathcona County RCMP & Enforcement Services will no longer provide Criminal Record/Security Clearance Checks for residents of the City of Edmonton. We will continue to provide these services to all residents of RCMP jurisdictions, along with fingerprint services for federal agency requests to all residents, regardless of where they reside. 
New residents to Strathcona County: If your government ID does not reflect your new Strathcona County address, another document must be provided at time of application confirming the address. I.E. bank statement, utility bill. 
Note: one piece of valid government ID must be presented at the time of digital and ink and roll fingerprint processing.
Health safety procedures
If you need officer assistance at your home and believe you may be ill, please advise during the phone conversation so our officers can be prepared ahead of time.
Employees may wear extra personal protection.