Street sweeping
Every spring, crews sweep sand and dirt left on our streets from the winter season. Street sweeping usually begins in mid to late April, depending when the snow melts from residential yards and boulevards.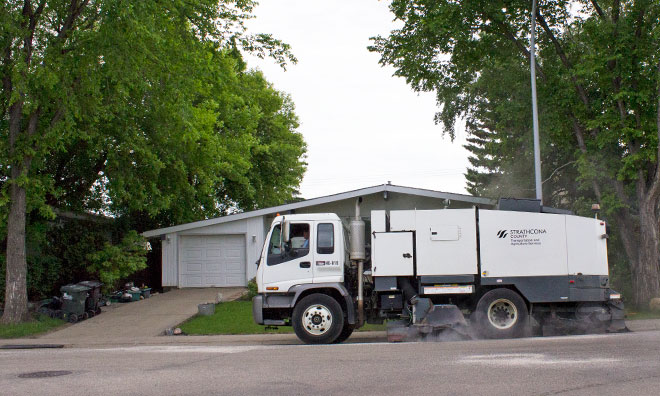 How long does it take?
It takes sweepers approximately 4-5 weeks to clear arterial roads and residential roads in Sherwood Park.
Crews also sweep country residential and rural grid roads; this is a longer process that can take up until the end of May.
Why doesn't the County start sweeping streets earlier?
All streets must be dry enough to clear the sand away, otherwise the sweepers will smear mud on the roads. We also need to be confident that the possibility of snow is minimal before we start sweeping the streets to avoid sanding roads that were previously swept.
How you can help
Move any parked cars
Sweep your sidewalk and driveway in advance
Remove rubber driveway mats and any other on-street obstructions (basketball nets, waste collection carts, etc.)
If street sweeping occurs on your waste collection day, please place your roll-out cart at the end of your driveway and not on the road or sidewalk
Do not park on the street until the signs at the neighbourhood entrances have been removed
Watch for the signs!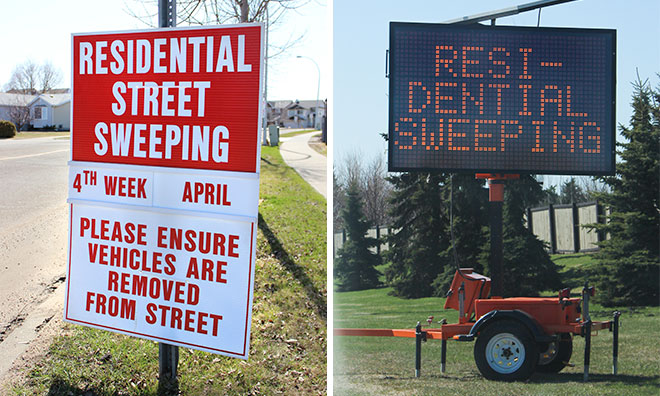 County Connect
Ask a question, provide feedback or report an issue.