Ice control
Manage icy conditions with rock chips
Crews are in the process of restocking the green community chip bins. If one has run low please report it through County Connect.
Central locations remain fully stocked. Rock chips at these locations are in a large pile – sometimes it looks like a mound of sand or is partially covered in snow. Signs have been added to help identify them.


Central locations include:
53129 Range Road 222 
Ardrossan Recreation Complex 
Broadmoor Golf Course 
Broadview Enviroservice Station 
Centennial Park 
Elk Island Administration Office (west side off Range Road 231) 
Glen Allan Recreation Centre 
Log Cabin on Fir Street 
Salisbury Composite High School (north side off Festival Way) 
Strathcona Athletic Park 
Exact locations can be viewed on the chip bin map
Last modified: Jan. 28, 2022, 7:59 a.m.
Strathcona County uses a variety of methods to manage icy conditions. These include salt, sand, rock chips and anti-icing solution. Crews continuously monitor and address concerns on all roads, as required, based on weather conditions.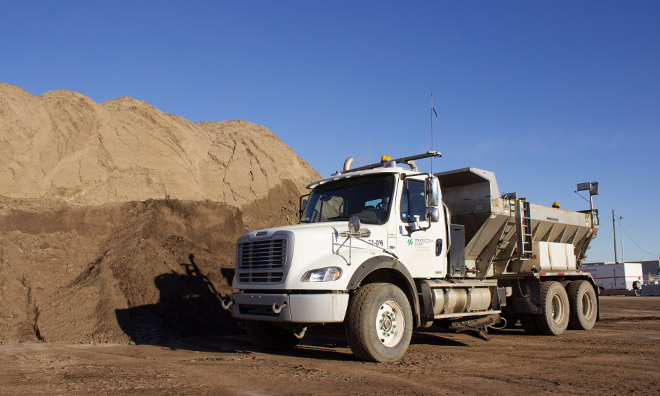 Ice control highlights:
Ice can be difficult to manage at cold temperatures. Always slow down and give yourself extra time and space between vehicles.
A sand/salt mixture is used on the majority of road types in urban and rural Strathcona County. Salt is not as effective at cold temperatures, so the amount of salt decreases as the temperature drops.
Rock chips are used to manage icy conditions on Priority 4 residential roads in Sherwood Park, Priority 3 and 4 rural roads, and in County-owned parking lots.
Anti-icing solution may be used on select roads and intersections prior to a snowfall.
Always drive to the conditions
Depending on the temperature and wind conditions, ice control methods are not always effective. Please note that even when sand, salt, anti-icing products or rock chips are applied, drivers still need to take caution driving in winter conditions.
Always practice winter driving strategies such as:
Slow down – the posted speed limit is for ideal conditions
Leave extra space – give yourself extra space between the vehicle in front of you
Give yourself time – your daily commute could take twice as long to drive safely in winter conditions
County Connect
Ask a question, provide feedback or report an issue.