Victim Services
Strathcona County Victim Services provides immediate assistance, support and information to victims of crime and trauma. 
You are not alone.
Victim Services is here to support you.
780-449-0153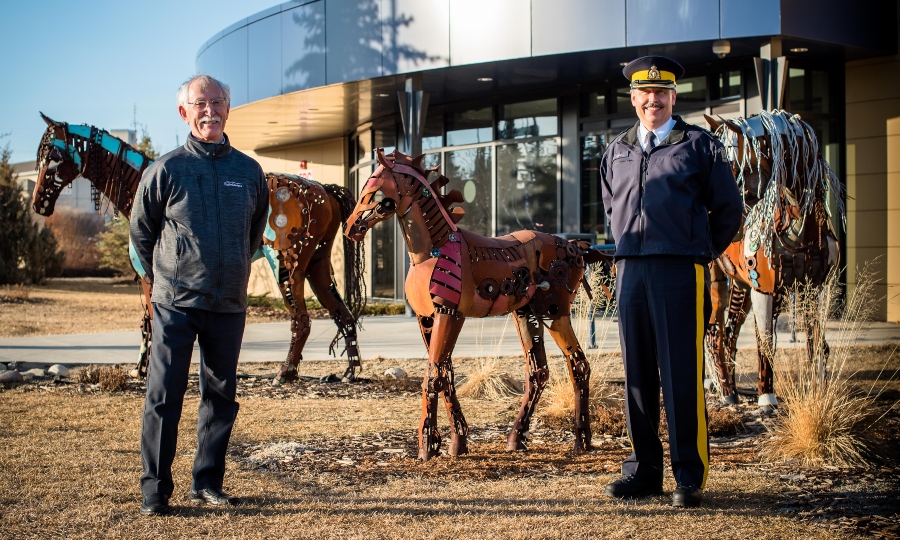 Strathcona County Victim Services marks 30 years of service in our community!
As part of National Volunteer Week, April 18 to 24, we shine a light on the contributions of the County's Victim Services volunteers over the past three decades.
Special mention goes out to long-serving volunteer Bill Hunka (pictured above with RCMP Supt. Dave Kalist). Thanks for everything you do, Bill!
Growing up in a farming community, Bill saw how support from friends and neighbours made all the difference. The retired school principal says seeing firsthand the difference a victim advocate can make in someone's life is what has kept him volunteering with Victim Services for over a decade now.
Being called to support someone who has suffered a traumatic event, such as the sudden death of a loved one or domestic violence incident, or even accompanying a witness through the court process—it's all part of a victim advocate's crisis response work, in partnership with the RCMP and Strathcona County Enforcement Services.
With gratitude, we recognize the service of our victim advocates. Thank you for your kindness, dedication and commitment to supporting people when they need it most. You make a difference in our community!

The aftermath of a crime, traumatic event, accident or emergency can be chaotic and overwhelming for the victims and witnesses. 
Our services:
Support to victims and witnesses of crime and trauma.
Arrange referrals to community organizations
Provide 24-hour response through RCMP
Give information and guidance through the criminal justice process
Aid with victim of crime assistance program 
Victim Services
In partnership with Strathcona County RCMP