Tourism strategy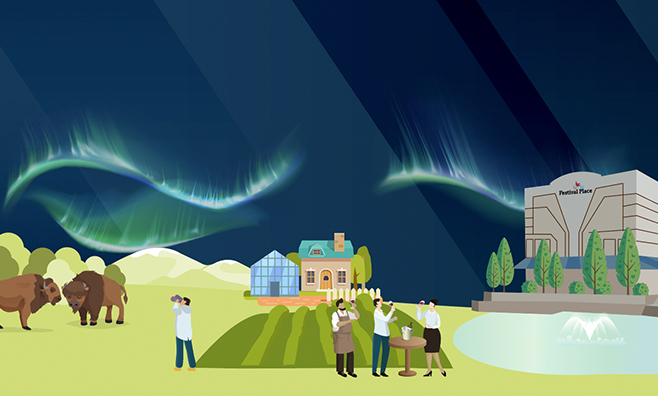 Tourism has potential to attract and grow our primary sectors. It can enhance quality of life by creating a sense of place, which would support major employers in the area to attract skilled workers. It can also support the retail community and create a more diverse economy.
"If developed effectively, tourism has the potential to have a significant diversifying effect on the economic base of Strathcona County."
---
Thank you for joining us in developing the Strathcona County tourism experience
Public engagement happened November 16, 17 and 18, 2021 
Businesses and organizations who offer activities, products, concepts, or experiences that attract visitors were invited to join a virtual workshop to generate ideas to spur tourism product development.  
Each workshop was specific to a tourism product cluster identified as having high potential for Strathcona County. Interested parties picked the one that aligned best with their business or concept.
Nature-based workshop
10 a.m. to 12 p.m. November 16, 2021 
Nature-based tourism usually involves excursions to wilderness areas. This area of tourism also includes adventure tourism that may carry an element of risk. Examples of nature-based tourism in the region could include hiking, bird-watching, experiencing the northern lights or canoeing/kayaking/paddling.
 
Cultural workshop
10 a.m. to 12 p.m. November 17, 2021 
Cultural tourism is the act of visiting a particular destination to learn about a particular culture. This can include many activities such as; visiting museums or art galleries, or participating in cultural activities (E.g. attending an Indigenous experience).
 

Culinary/Agritourism workshop
10 a.m. to 12 p.m. November 18, 2021 
Agri-tourism  is any activity that brings visitors to a farm or ranch. Examples could include a butter or cheese-making class, a tour of an estate winery, visiting a pumpkin patch or corn maze.

Culinary tourism is visiting an area to sample the local cuisine where food and beverage are the vital components of travel. It is the active pursuit of unique and memorable eating and drinking experiences. This can often be seen as a sub-set of both Agri-tourism and Cultural Tourism.
These sessions were facilitated by Expedition Management and started with a short presentation on the project, followed by discussions to collect participants input and ideas on tourism product development.
The input received will inform a tourism product development plan, which will outline individual and collaborative tourism development opportunities for Strathcona County, the private sector, and other stakeholder groups.
Estimated Tourism Product Development Plan project timeline
October to November 2021: tourism industry engagement and virtual workshops 

December 2021 to January 2022: opportunity assessment and action planning   

January to March 2022: a draft plan will be presented to stakeholders for feedback 

April 2022: final plan presented
---
Tourism Strategy and Implementation Plan
Our vision: within 10 years, Strathcona County will be known as a place where visitors can come to enjoy compelling nature-based offerings, authentic agritourism activities, and immersive cultural experiences, along with other opportunities like sports tourism, and festivals and events.
The strategy will help us understand what Strathcona County and the business community can do to support the community and economy through tourism. 
---
Frequent questions