After the storm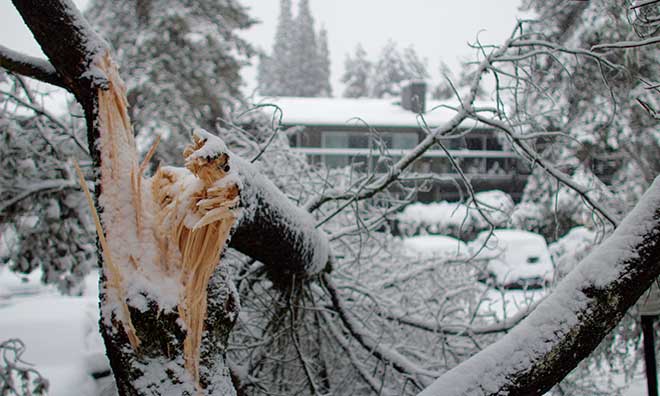 Power outages
Reminder: during a power outage unresponsive traffic signals should be treated as a 4-way stop.
Fallen trees and debris
Strathcona County's Forestry Crew is currently focused on dealing with the tree and debris from the storm that have affected roadways. Please be careful in the parks and trails as crews work to clean up all the tree debris left by the storm.
County Connect is the best way for residents to notify Strathcona County of any areas of concern so that we can add it to our priority list. Please note that the County does not look after trees on private property.
Please ensure to provide tree location and address - be as specific as possible. 
Waste collection
Winter weather can cause delays and missed collections. If your collection is missed, please call 780-449-5514 to let us know. You can sign up for reminders and collection alerts.
Yard waste can go in the green cart (lid must be completely closed).
When there is an upcoming extra yard waste collection, place items in paper bags. All tree branches must be under one inch in diameter a maximum of 3 feet (1 meter) long and bundled with packing or duct tape. Bundles should weigh no more than 25 kg (50 lbs). Please do not bundle loose branches with string or twine.
Branches larger than 2.5cm diameter and 1m long, up to 15cm and 2m long, can be brought to the Broadview Recycle station. 
Large end-dump truck loads of branches can be brought to the Edmonton Waste Management Centre. Call 311 for limits and costs.
For trees or other large debris blocking the road, call 780-417-7100 or report via County Connect.